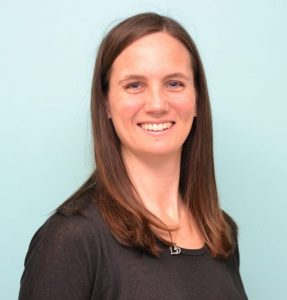 The Illinois Public Health Institute (IPHI) is pleased to announce Janna Simon, MPH has been named the Director of the Center for Policy and Partnership Initiatives (CPPI).
In this new  leadership role, Simon will play a part in the continuation of IPHI's  strategic growth throughout the past few years as a leading organization advancing health equity in  three core areas for learning, action, and collaboration: the Center for Community Capacity Development (CCCD), the Center for Health Information Sharing and Innovation (CHISI), and the Center for Policy and Partnership Initiatives (CPPI). Through our centers, IPHI leads programs and initiatives on systems change and multi-sector collaboration initiatives addressing the various social detriments of health (SDOH) which impact people and communities across health and housing, mental health and substance use disorders, nutrition, physical activity, diabetes prevention, sharing data across sectors,  and strengthening capacity of the public health system through strategic and health improvement planning and innovation.
"I am thrilled that Janna will serve as leader in such a key area of our work taking on this expanded leadership opportunity," said Elissa Bassler, CEO. "She brings a wealth of knowledge to this role including strategic leadership, entrepreneurial spirit, leadership development and an appreciation for partnerships in programmatic implementation  which is vital to our work and this role."
Simon joined IPHI and CPPI in 2013 to lead the Illinois Alliance to Prevent Obesity (IAPO) coalition and support nutrition and physical activity policy, systems, and environmental (PSE) change initiatives. Through IAPO, she has partnered with coalition members and state agencies to advance enhanced physical education, activity, and wellness across the state of Illinois.  Her work here has also increased increased support  of the Supplemental Nutrition Assistance Program (SNAP) recipients to purchase fresh and healthy foods at farmers markets, as well as increased built environments supporting physical activity. Throughout the past three years, she has led our CDC-funded Illinois State Physical Activity and Nutrition (ISPAN) program which builds on IAPO's work and implements physical activity and nutrition interventions designed to make it easier for Illinoisans to live the healthiest lives possible.
Simon is also skilled in engaging policymakers and partners in leading legislative and administrative initiatives promoting food security and accessibility, improving access and quality to physical education, developing health protections in cannabis legalization efforts, and many other policies that enrich the lives of Illinoisans. Through this work she is also involved in policy research, stakeholder engagement, and connecting policy and practice through the Illinois Department of Healthcare and Family Services to submit a Medicaid State Plan Amendment to cover the National Diabetes Prevention Program and Diabetes Self-Management, Education, and Support Services program.
In her expanded leadership role, Janna will also guide  the Chicago Collaboration to Advance Reach, Equity and Systems (CARES) to Prevent Diabetes. Chicago CARES, a partnership with the Chicago Department of Public Health (CDPH), seeks to increase access to and strengthen systems for the National Diabetes Prevention Program (DPP) in Chicago with an intentional focus on the West and South side communities of the city. This additional body of work within Chicago CARES will build upon the  strong foundational leadership of our former colleague and that f Chicago CARES Program Director, Lucy Flores. Flores leaves to pursue a new opportunity.. As the Center director, Janna will work to build the through line between IPHI's current nutrition and physical activity strategies and the development of systems to scale the DPP's potential to  connect program participants to holistic nutrition and physical activity opportunities in Chicago.
"I look forward to continuing to work with partners, communities and our staff to ele and elevate our work supporting nutrition, physical activity and chronic disease prevention across the state," said Janna Simon.
Prior to joining IPHI, Janna was a Senior Policy Analyst and Schweitzer Program Associate at Health & Medicine Policy Research Group where she focused on improving the healthcare system for the city and state's most vulnerable populations. Janna was an adjunct lecturer at the UIC School of Public Health from 2013-2018. She received her MPH from the UIC School of Public Health and has a BA in Psychology from California State University, Long Beach.
Learn more about IPHI
The Illinois Public Health Institute develops leaders, partnerships, and networks to advance improvements  innovation in public health systems by focusing on maximizing health, health equity, and the quality of life for all people.  To learn more about our mission, partners, programs, and our community impact, please visit iphionline.org.
Media Contact:
Skyler Nimmons, Communications Director
312.850.4744
skyler.nimmons@iphionline.org