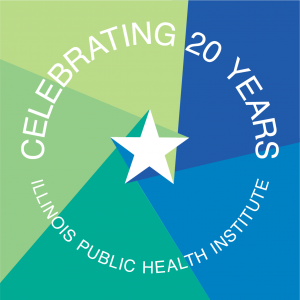 Dear IPHI Friends and Colleagues,
I am writing with well-wishes to all of you for 2022. The past two years have been challenging, yet we still find hope for a brighter tomorrow. Even as we press through a global pandemic and the impacts of many systemic issues, together, we continue making strides toward advancing justice and health equity. I am hopeful that we can do even more together in 2022 and that by this time next year, we will see a decline in COVID spikes and an increased appreciation for the importance of our collective public health.
This year marked the Illinois Public Health Institute's 20th anniversary — twenty years of advancing health, health equity, and quality of life for people and communities across our state and the nation through policy and partnerships, systems change initiatives, and health information sharing. A milestone achievement of this nature is not possible without the dedicated commitment and support of each one of you. Collaborations, partnerships, and shared purpose continue to be a key to our success for these last two decades and beyond.
Recently, I looked back at our founding document – The Illinois Plan for Public Health System Change —and reflected on how remarkable it is that so much of our work today can still be traced back to that plan! The Plan was created when we were just a small project of the Illinois Department of Public Health, funded by the Robert Wood Johnson Foundation.
Here are the priorities from that inaugural plan and how they're still playing out in our work today:
Priority 1: Integrated prevention systems

:  Through our work in the Alliance for Health Equity and Chicago CARES to Prevent Diabetes, we are pushing forward on connecting and linking health care providers, community-based social services, and public health to build holistic systems that connect health care to the social conditions that drive the health inequities that plague so many communities. 
Priority 2 and 3: Community Health Improvement Planning (CHIP)

and

State Health Improvement Planning (SHIP)

: Throughout the years, IPHI has helped hundreds of communities from the smallest rural communities to the largest counties and cities with CHIP initiatives and pioneered public health approaches to Community Health Needs Assessments (CHNA) with hospitals and health care systems.  And, just this year, we advocated for updating Illinois' SHIP law to focus more intentionally on equity and community engagement, and are now working with the University of Illinois Chicago (UIC) School of Public Health and the Illinois Department of Public Health to facilitate a new SHIP due at the end of 2022.
Priority 4: Access to Care

:  Through the Illinois Alliance to Prevent Obesity (IAPO), we have worked for more than five years for Medicaid coverage of Diabetes Prevention Program and diabetes self-management programs, and finally, in 2021, our advocacy was successful, and the Illinois Department of Healthcare and Family Services (HFS) launched coverage of diabetes prevention and care.  Now, people at risk of diabetes who are covered by Medicaid and Medicaid Managed Care will have access to this proven prevention program. 
Priority 5: Prevention Focus Throughout the Public Health System

: Throughout many of our programs initiatives, we are working with communities on building prevention into the work of many sectors – from food systems to transportation systems, to early childhood, to housing. We are working with the Chicago Department of Public Health and communities in Chicago to develop tools like Health and Racial Equity Impact Assessments to strengthen community voices in neighborhood development.  
Priority 6: Funding for Prevention

:  We continue to advocate for government and other sectors to invest in prevention and the upstream social determinants of health, and most recently, we succeeded in working with our local foods partners to secure a $500,000 state investment in the Supplemental Nutrition Assistance Program (SNAP) double value coupons in Farmers Markets across the state. 
Priority 7: Data-driven Health Policy:

As always, we premise all of our work on what the data tell us – but we also work for improved data to make policy decisions even better. For instance, through Data Across Sectors for Health (DASH), we work to build the capacity of communities to share data among health care, public health, and social services to drive better health outcomes and healthier communities. 
Together, we are continuing to advance health, health equity, and well-being through our partnerships to deliver real-world solutions geared to the needs of people and communities. Throughout the next few days, we invite you to join us via our Facebook, LinkedIn, and Twitter to learn more about our collective impact and the work still to be done. We look forward to having you as followers. 
On behalf of the entire IPHI team, thank you all so much! We are looking forward to continuing this journey with you in 2022.
Sincerely,
Elissa Bassler 
Chief Executive Officer