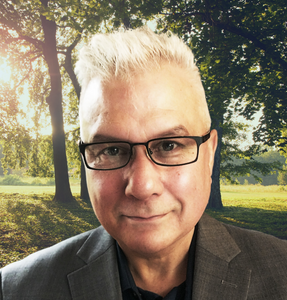 The Illinois Public Health Institute (IPHI) is pleased to announce Waldo Mikels-Carrasco as the Director of the Center for Health Information Sharing and Innovation (CHISI) and newest team member. He will also serve as the Co-director of Data Across Sectors for Health (DASH), a national initiative supported by the Robert Wood Johnson Foundation (RWJF), which IPHI leads in partnership with its Michigan counterpart, MPHI.
"Throughout his career, Waldo has focused on applied research and practice to build awareness and new understandings of health disparities and make strides in improving health equity through systems and policy," said Bassler. She continued, "data and information sharing are vital to advancing our collective potential for a better future. Having Waldo as a partner in this work will be an exceptional benefit to IPHI, DASH, and most importantly to the partners and communities with whom we are building new solutions."
In his primary role as the Director of CHISI, he will work alongside the IPHI senior leaders and teams to foster the organization's strategic growth in public health leadership, partnerships, data sharing, multi-sector collaborations, and collaborative learning. As a Co-director of DASH's national program office, Mikels-Carrasco will work alongside Clare Tanner, Ph.D., Co-director of DASH, and Director of MPHI's Center for Data Management and Translational Research. DASH connects people, organizations, and communities throughout the country to build local capacity for multi-sector partnerships addressing the needs of communities to prioritize racial equity and dismantle structural racism through power sharing and shared data.
"I'm incredibly excited to be joining IPHI at this pivotal time in public health," said Mikels-Carrasco. He continued, "COVID-19 has laid bare the systemic and structural inequities underlying appalling disparities in health outcomes for people of color and other marginalized communities. I am thrilled to work with an organization promoting health equity and racial justice."
Together, Mikels-Carrasco and Tanner will lead this hub of innovation and a team of dynamic leaders with a passion for change leadership and advancing communities' power to influence policies and solutions that meet the needs of their residents. DASH forges new opportunities across health care, public health, social services, and policy to develop community-driven approaches to create a culture of health in every community. Through grants, research, mentorships, and collaborative learning with the All In: Data for Community Health partners, DASH promotes and enhances the national conversation for developing community-wide data sharing models to advance health and equity.
Tanner shared, "Waldo has been a collaborator and an advocate for DASH and All In throughout our work. His devotion to addressing systemic barriers to improve health and well-being is ceaseless and he builds relationships and projects that move us closer to reducing health disparities." She continued, "this is wonderful for the DASH team, the All In: Data for Community Health network, and the field!"
He is a seasoned health leader with a wealth of knowledge of systems change and transformation in health and extensive experience in addressing health-related social needs, data exchange across health sectors, including health care and social services. Before joining IPHI, Mikels-Carrasco served as the Director of Community & Governmental Solutions at the Indiana Health Information Exchange (IHIE). During his tenure at IHIE, his leadership spanned collaborative organizational development in multi-sector data sharing efforts addressing social determinants of health (SDoH), reducing health disparities in communities, and developing sustainable partnerships to advance community capacity to advance health equity. His work in improving Transitions-In-Care connects the dots among communities' needs from homelessness/housing insecurity, HIV/AIDS, substance use disorders, long-term social services and supports, and transitions and re-entry to community life after incarceration.
Mikels-Carrasco shared, "this is a critical moment in our history. I am looking forward to working alongside the public health leaders of IPHI, DASH, and All In to advance a vision of optimal health for all people in every community through insights, innovation, and impact. It is time to create a socially relevant public health system to end inequities."
In addition to his public health work, Mikels-Carrasco brings deep experience as a principal investigator in projects and programs to examine health disparities, infant mortality, mental health, and childhood nutritional and physical wellness. He has served as the Community Health Research Program Manager at the University of Notre Dame's Interdisciplinary Center for Network Science & Applications (iCeNSA), as well as a regional liaison for the Indiana Clinical and Translational Sciences Institute's (ICTSI) Community Health Engagement Program (CHEP). Additionally, he is a trainer for cultural competency, where he works with municipalities, state organizations, boards, and commissions in their quest to engage historically excluded communities as advocates to reduce barriers and end disparities for all. Mikels-Carrasco has also served as the co-chair of the Strategic Health Information Exchange Collaborative's (SHIEC) Social Determinants of Health Committee, which awarded him the 2021 National Board Chair Award for Outstanding Contributions to SHIEC.
Mikels-Carrasco obtained a Bachelor of Arts in Philosophy from Indiana University and a Master of Arts in Applied Medical Anthropology from the University of North Texas. He begins his new role Friday, October 1, 2021. He can be reached at waldo.mikelscarrasco@iphionline.org.
Learn more about IPHI
The Illinois Public Health Institute mobilizes stakeholders, catalyzes partnerships and leads action to improve public health systems to maximize health, health equity and quality of life for people and communities. To learn more about our mission, partners, programs, and our community impact, please visit iphionline.org.
Media Contact:
Skyler E. Nimmons, Communications Director
312.850.4744
skyler.nimmons@iphionline.org