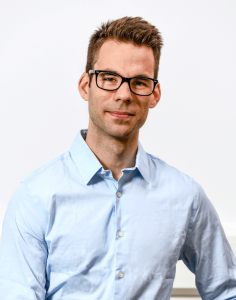 The Illinois Public Health Institute (IPHI) is pleased to announce Andras Ferencz as the new Communications Manager of IPHI's Communications Department.
Andras was born and raised in Budapest, Hungary. In his early 20s, Andras moved across the Atlantic to study at Bard College, NY, where he earned bachelor's degrees in classical music performance (French Horn) and literature.
Following his graduation, Andras began working as a writer for a small Chicago marketing firm. He eventually moved to England to earn a master's degree in marketing, followed by a four-year stint at a content agency based in Edinburgh, Scotland, where he worked as a writer.
Andras's work over the past few years focused on the topics of climate change, climate communications and business sustainability. This led him to earn a certification from the University of Cambridge in Business Sustainability Management, while putting his employer on track to earning a B Corp sustainability certification.
Andras is passionate about the intersectionality of climate change and social justice, as well as the topic of cultural hegemony. When not baking sourdough bread or indoor rock climbing, Andras spends his time reading about climate change, political philosophy, political economy and the ecological economics of degrowth.
Andras currently lives in Chicago with his wife, Page, and five cats, Hedwig, Wolfie, Biscuit, Crookshanks and Mitsy.
He can be reached at andras.ferencz@iphionline.org.
Learn more about IPHI
The Illinois Public Health Institute mobilizes stakeholders, catalyzes partnerships and leads action to improve public health systems to maximize health, health equity and quality of life for people and communities. To learn more about our mission, partners, programs, and our community impact, please visit iphionline.org.
Media Contact:
Skyler E. Nimmons, Communications Director
312.850.4744
skyler.nimmons@iphionline.org