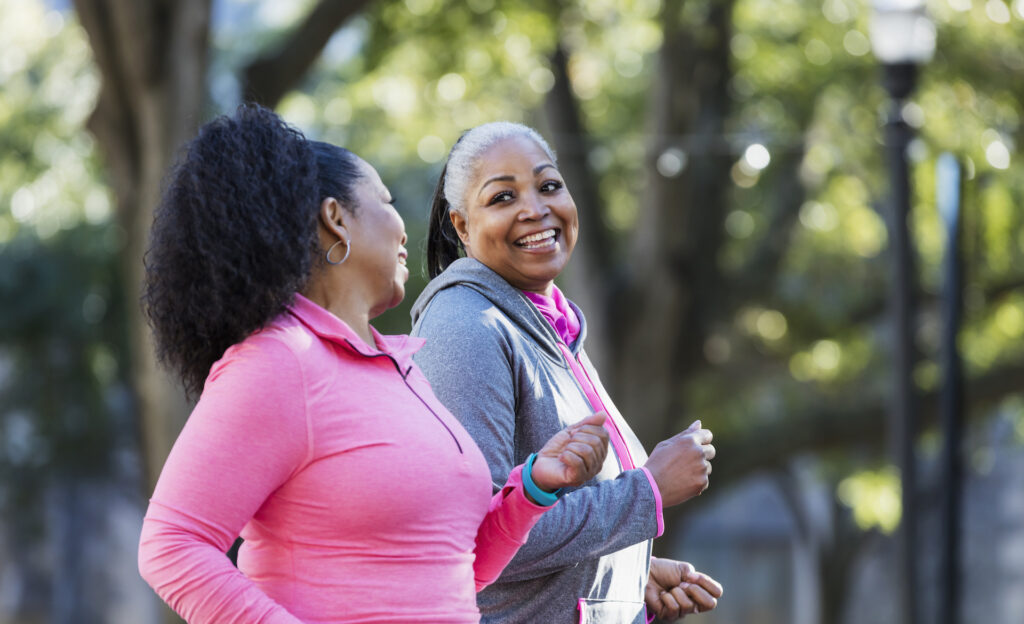 Eating healthier, being physically active, and managing stress may seem like a straightforward path to a healthier lifestyle, but taking that first step and seeking support to build skills for long-term success is a challenge – one that Chicago CARES participants are ready for.
Single mom Danielle has a family history of type 2 diabetes. Growing up in Garfield Park, she knew what that meant – needles, pills, and a more difficult life. So, when she was diagnosed with prediabetes, she knew she had to take action to make sure she could be there for her son. Between her divorce, managing a home daycare, and navigating the Covid-19 pandemic, she knew she had to try something to prioritize her health, which is when she found the National Diabetes Prevention Program (NDPP) at Near North.
Danielle isn't alone. More than 1 in 3 adults living in the U.S. – 3.6 million people – have prediabetes, but most don't know it. Understanding prediabetes, and its risk factors, is critical to avoiding type 2 diabetes and reducing the risk of heart disease and stroke. Having prediabetes means a patient's blood glucose (sugar) level is higher than normal, but not yet high enough to be diagnosed as diabetes. A prediabetes diagnosis is even more important in Black and Brown communities, where type 2 diabetes affects 16.7% of African-Americans and 13.2% of Hispanics/Latinx people in Chicago.
As a response, Chicago CARES' NDPP was administered and implemented by the Illinois Public Health Institute in partnership with the Chicago Department of Public Health with funding from the Centers for Disease Control and Prevention in 2018. The program had two goals – to raise awareness of the existence of prediabetes and reduce diabetes disparities through community providers delivering the NDPP on Chicago's South and West Sides. Since the program began, 12 providers have been funded to deliver the NDPP with seven actively delivering programming today. Five of these providers have also been approved as Illinois Medicaid NDPP providers.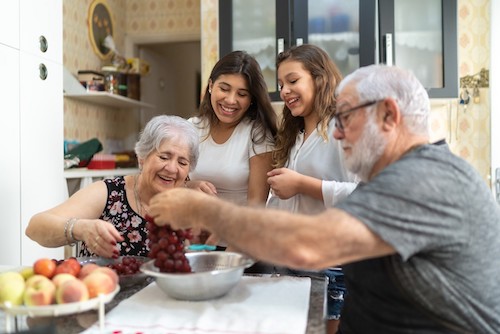 Through the work of our community providers, Chicago CARES has already helped over 700 community members across 65 year-long cohorts meet their goals. Over nearly five years, Chicago CARES community providers have reported the key elements to the success of this program as:
Building strategies for long-term lifestyle change
Meeting communities where they are
Developing unique recruitment methods
While each community provider took a unique, customized approach to delivering the NDPP to participants, the lessons learned and best practices to ensure success share these common themes, which are critical to implementing future programming in communities across the country.
Building strategies for a long-term lifestyle change
The ultimate goal of the NDPP is to create long-lasting lifestyle change through increased physical activity, healthier eating habits, stress management, goal setting and healthy sleep. These lifestyle changes contribute to a small percentage of weight loss, which can create the difference of having prediabetes and a normal blood sugar level. While this may seem like a straightforward task, losing the weight and then maintaining this new lifestyle is not always easy with the ups and downs of life.
That is why the program provides participants with free access to a trained lifestyle coach to support and guide them, support from other participants with the same goals, virtual and in-person meetings, and the skills necessary to lose weight and manage stress. To date, 72 lifestyle coaches have been trained to lead NDPP programming, with an average weight loss range of 2.8% to 7.8% per cohort.
Valeria Farias understood what was at stake when she received her prediabetes diagnosis. She joined Universidad Popular's NDPP program through the UP's Health Literacy Initiative, which takes a holistic approach to providing tools to participants, empowering them to lead their families in healthier, more well-rounded lifestyles that ensure the progress of a community committed to health. A diagnosis of prediabetes opened her eyes to prioritize her own health, and to share what she learned with her family. With type 2 diabetes on the rise in her community, she encourages others to join the NDPP and shares the strategies she learned during the program, including increasing the amount of vegetables in her diet and physical activity.
Floretta Wallace Johnson agrees. She participated in the Inner-City Muslim Action Network's (IMAN) program. As a community organization that fosters health, wellness, and healing in the inner-city, providing NDPP classes was a perfect fit for IMAN's mission. NDPP provides a unique opportunity to avoid type 2 diabetes, as Ms. Johnson points out, "it is much needed. There is a big focus on diabetes after people get diabetes, but diabetes prevention is really needed because there's a lot of people headed that way."
The NDPP is designed to help ensure the long-term success of its participants through the support of not only the lifestyle coach, but also the entire cohort, who often stay connected through social media apps like WhatsApp, GroupMe, or Facebook. Additionally, many community providers like Near North offer incentives during the program that help participants support these lifestyle changes, including a pedometer, water bottle, Tupperware, knives, cutting boards, spices, weekly fresh produce, and more at no cost. These items can be used to create their special revised recipes, allowing participants to better understand what alternatives they can use when cooking to make sure the meal is healthy and delicious.
As K. Kyles from the Near North NDPP shared, "I still have my booklet and the notes taken from each session to reflect and utilize for future refences if I run into potential roadblocks. If you are struggling with your weight and want to take the initiative to change small eating habits, I highly recommend that you join the program."
Meeting communities where they are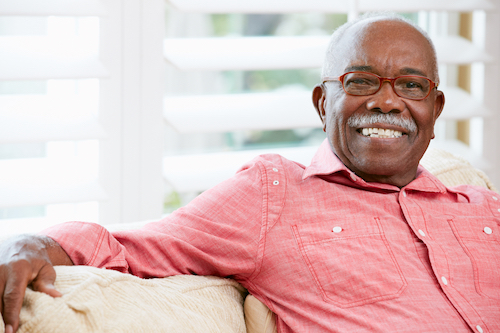 Since Erie Family Health began offering the NDPP in 2018, the community provider has led eight cohorts, providing over one hundred participants with ongoing support in achieving positive health outcomes. They understand the customized approach necessary to meet the unique needs of their community, as well as that of each participant. So, when the Covid-19 pandemic spread worldwide in 2020, Erie – and all Chicago CARES providers – had to work quickly to figure out how they could continue to meet their communities where there are at and deliver the NDPP. This work became even more critical as type 2 diabetes raised the risk of the most dramatic effects of Covid-19, including death.
Key to their continued success – and that of all other Chicago CARES providers – was shifting the in-person model to providing virtual offerings and increased flexibility in meeting program requirements. Despite the technology literacy required, this approach has been critical to making the program accessible for the largest number of participants – and is still offered today.
LP is one of the participants at the Chicago Lighthouse who benefited from the changes made to the NDPP program during the pandemic. She, like so many others during this unprecedented time, gained weight due to changes in her daily routine. While her progress was not linear, she did not allow any setbacks to deter her from her goal. As she shares, "the program helped me make better choices with meals and exercise… The program also showed me how to read and understand food labels, and I learned the importance of proteins, carbs, sugars, and fats. I can't always make classes because of my work schedule, but I always track and submit my data each week. It keeps me accountable. I have learned so much from this program and am just implementing everything that I am learning. I am so thankful for my NDPP team."
Developing unique recruitment methods
Identifying new referrals and bolstering recruitment efforts has been a challenge for the NDPP since the launch of the program. While traditional marketing and communications efforts can support this work, we know that a personal recommendation from a friend or physician often makes the biggest impact for anyone considering signing up for the NDPP. However, two community providers took the next step to build recruitment efforts through unique partnerships.
Sinai Urban Health Institute (SUHI) developed an elaborate network of referral partnerships with three community health organizations – Tapestry 360 Health, Esperanza Health Center, and ACCESS – over the course of four years. To ensure a successful partnership and referral process, these agreements started on a smaller scale, such as with a single center within an organization's network, and later expanded to referrals from other clinics within the network. This approach has allowed SUHI and their referral partners to refine the data sharing process before expanding implementation.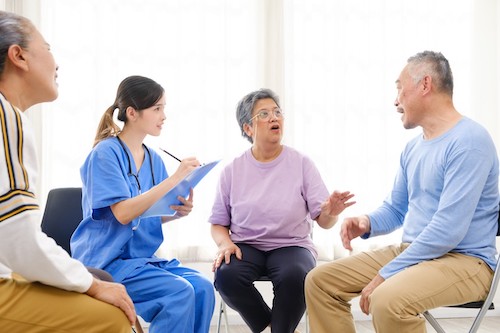 With the strong referral network SUHI formed – and continues to grow – internal capacity to contact each referral became limited. To increase capacity to educate and screen potential NDPP participants, SUHI partnered with Grapefruit Health to utilize Grapefruit Health's student workforce to reach out to SUHI's NDPP referral list to introduce the NDPP, assess patients' interest in participating in the NDPP, and for those that are interested, connect them to a session zero hosted by SUHI's lifestyle coaches. Through these partnerships, there have been 1,722 patients with prediabetes referred, and all have received an informational phone call and opportunity to enroll in the NDPP.
Mile Square Health Center (MSHC) worked directly with schools, churches, other community organizations, and families to identify locations where potential participants may already meet for various reasons and provide programming where they were. For example, in one instance MSHC hosted a cohort of 15 parents at an elementary school where they met for class the hour before picking up their children. All 15 participants completed the program as a result.
What's next?
Over the last five years, Chicago CARES to Prevent Diabetes has been proud to support the work of our community providers as they deliver the NDPP, and as some became Illinois Medicaid NDPP providers. This work has also expanded deeper into our state through Illinois CARES. We look forward to continuing this work and helping our providers reach even more community members to raise awareness of prediabetes and reduce diabetes disparities in Chicago. Learn more at chicagocaresdpp.org.